Artist Bios 2022-2023 in Concert Order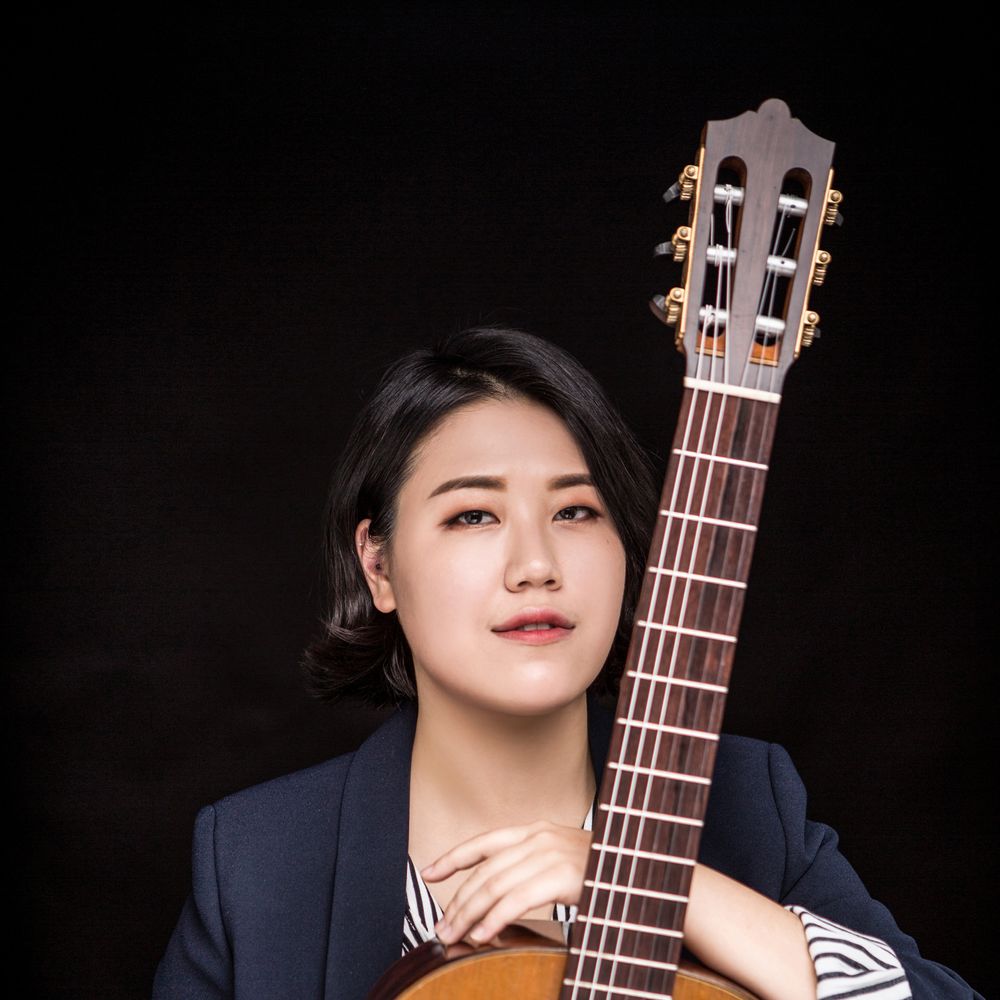 Bokyung Byun
September 15 & 16, 2022 @ 7:30 pm
Praised by Classical Guitar Magazine as "confident and quite extraordinary," Korean guitarist, Bokyung Byun​ enjoys a reputation as one of the most sought-after guitarists of her generation. Byun holds the distinction of being the first female winner of the prestigious JoAnn Falletta International Guitar Concerto Competition, where Falletta herself described  Byun's performance as "stunning, showcasing her gorgeous tone, immaculate technique, and sophisticated musicianship." This win is among many wherein Byun excelled in the competitive circuit, including winning the grand prize at the Guitar Foundation of America International Concert Artist Competition, known as the most prestigious guitar competition in the world.
A bevy of orchestras, festivals, workshops, and guitar societies look to Byun for solo performances and masterclasses. In recent seasons, Byun has performed as a soloist with orchestras, including the Buffalo Philharmonic, the Utah Symphony, West Los Angeles Symphony, New Juilliard Ensemble, the Aspen Music Festival Orchestra, among others. Her solo recital highlights include performances at the Kumho Young Artist Series, Philadelphia Guitar Festival, Aspen-Salida Concert Series, Toronto Guitar Weekend, Guitar Montréal, Ellnora | The Guitar Festival, and San Diego Guitar Festival. She was acclaimed for performing "eloquently through a diverse and challenging program," by Michelle Fratus, president of the board of the Knoxville Guitar Society, and having "confidence, passion, excellent projection and great dynamic contrast" by Heather Morand Clark, president of the Guitar Society of Toronto.
Committed to expanding the role of a 21st-century musician, Byun's concert program often features contemporary music alongside traditional repertoire. As Byun herself says, "it's vital and exciting to audiences for concerts to join the new with the old. For guitar music to continue to grow, I believe that new works must actively be cultivated in programming, and it is my hope that audiences leave my performances with new experiences." This skill at navigating both classic repertoire and fresh work has led her to co-found Sounding Board: The New Music Initiative for Guitarists and Composers. The project focuses on promoting collaborative relationships between composers and performers to create new works for guitar, and its inaugural festival in Besançon, France in 2019 has been praised as "extraordinary, in the strict sense of the word," by La Presse de Gray in France.
Byun's debut recording in 2020 has been praised by Soundboard Magazine as "a very beautiful disc. From the first notes of the "Gallarda" from Castelnuovo-Tedesco's Escarraman, we are treated to extraordinary musicianship, technical assurance, and beauty of sound." American Record Guide says "Byun's interpretation enlivens them with creative phrasings, articulations, spacing, and dynamics, which take the listener beyond most performances I have heard."
Born in Seoul, Korea, Byun began playing guitar at the age of six. At eleven, she took the stage for her first solo recital, leading to an early start in her teen years performing numerous concert tours around Korea, to enthusiastic response, including millions of views on YouTube. By her teen years, she had gained national attention for first-prize finishes in three renowned competitions: the Korea Guitar Association, the Music Association of Korea, and the Guitar Foundation of America International Youth Competition.
Byun soon moved to the United States, where she briefly studied in Los Angeles before moving to New York City, where she entered The Juilliard School at the age of sixteen. She holds Bachelor of Music and Master of Music degrees from The Juilliard School and a Doctor of Musical Arts degree from the University of Southern California. She is grateful to the masterful instruction of her pedagogues, who include Scott Tennant, William Kanengiser, Chen Zhi, Tae-soo Kim, and Sharon Isbin.
In 2020, Byun co-founded Guitarlab which has provided an innovative online learning platform offering cutting-edge classes designed for young professionals around the world. Byun is currently on the guitar faculty of California State University Fullerton. She is sponsored by Augustine Strings and plays a guitar by Dieter Mueller (2019). Please visit www.bokyungbyun.com for more information.​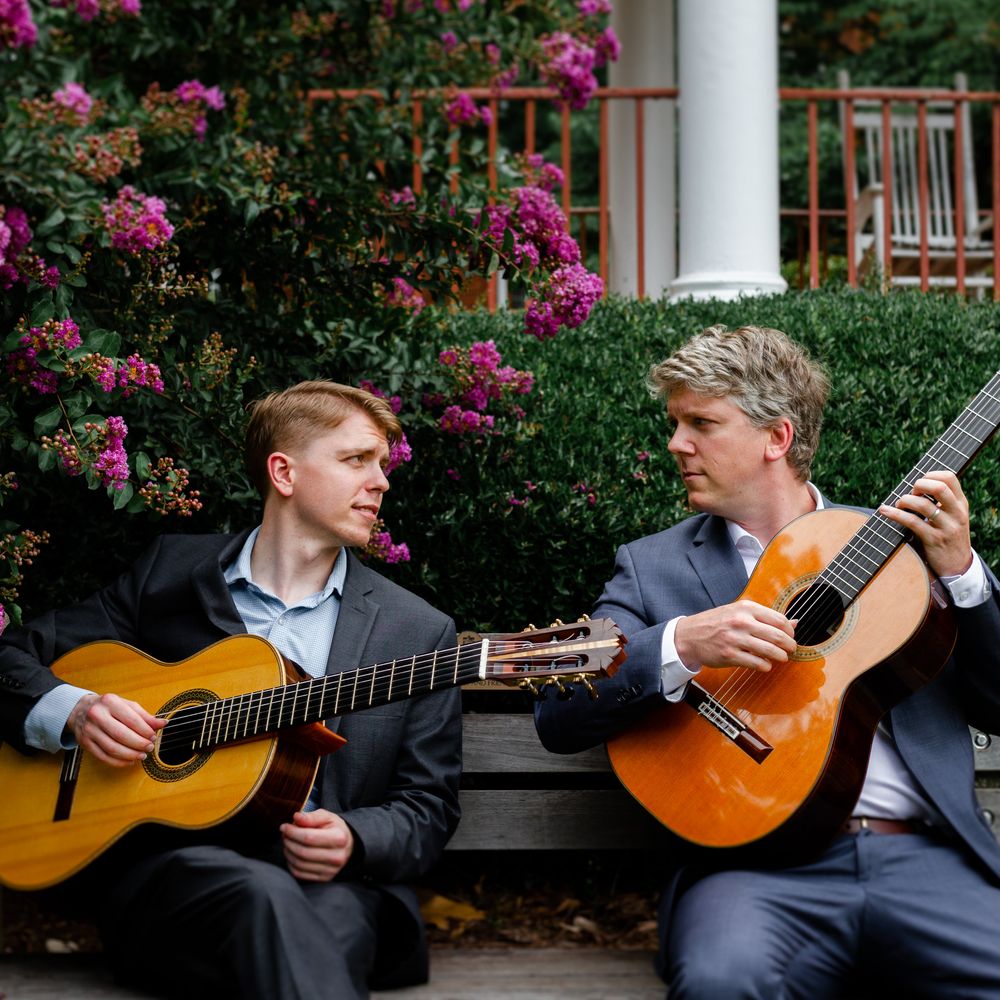 Kossler Duo
November 11, 2022 @ 7:30 pm
Brothers Adam and John Kossler have established themselves individually as soloists, chamber musicians and educators, and as the Kossler Duo have performed for concert series including the Utah Classical Guitar Series (SLC, Utah), Philadelphia Guitar Series (Philadelphia, PA), Triangle Guitar Series (Durham, NC) Auburn Guitar Society Concert Series (Auburn, AL), Aguado Guitar Series (Sterling, VA), Appalachian Guitarfest (Boone, NC), Mid Maryland Guitar Festival (Rockville, MD) and East Carolina Guitar Workshop (Greenville, NC). In 2019 the Kossler Duo released their first album titled Danse Macabre, a collection of their own new transcriptions for guitar duo. The recording debuted at #2 on Billboard's "Traditional Classical" chart, and #7 on Billboard's "Classical Albums" chart. All arrangements are published through Guitar Chamber Music Press.

Adam Kossler is a top prizewinner in a number of national and international guitar competitions including the Boston Guitarfest, Columbus Guitar Symposium, East Carolina Guitar Competition, MANC Guitar Competition, Texas International Guitar Competition, Music Teacher National Association Competition, and the Appalachian Guitarfest Competition. Kossler's international performance career has taken him throughout the US, Canada and Central America. He has been a featured artist with numerous concert series including the John E. Marlow Guitar Series (Bethesda, MD), Isle Newell Concert Series (Appalachicola, FL), and the Seven Hills Guitar Series (Tallahassee, FL) among many others. In 2015, his Marlow Guitar Series performance was aired in its entirety on Classical WETA's weekly program, "Front Row Washington".

In addition to his performance career, Adam is also in demand as a teacher and clinician. Recent engagements include The Denver Guitar Summit (Denver, CO), Festival Internacional Suzuki (Guatemala City, Guatemala), University of Alaska Guitar Festival (Anchorage, AK) Rantucci Guitar Festival (Buffalo, NY), and in 2015 Kossler was the featured Artist in Residence for Utah Classical Guitar (Salt Lake City, UT). In 2014, Adam released his first solo recording, Guitar Recital. The album was received with enthusiasm by critics and audiences and was featured Tom Cole's show, "The G String" on WPFW 89.3 FM in Washington D.C. In 2015 Kossler released his second solo record titled Ekloge, an album of 20th century music including works by Joaquin Rodrigo, Manuel Maria Ponce and Mario Castelnuovo-Tedesco, as well as his own new transcriptions of music by Jean Sibelius.
Adam began his musical studies with his father William Kossler. He went on to earn his BM degree at East Carolina University with Dr. Elliot Frank, his MM degree at Appalachian State University as a teaching assistant to Dr. Douglas James, and completed a DMA in Guitar Performance at Florida State University where he served as a teaching assistant to Bruce Holzman.

John Kossler started his guitar studies through the Suzuki Method with his father, William Kossler, at the age of four years old. He eventually attended the North Carolina School of the Arts in Winston Salem, North Carolina, studying under Joseph Pecoraro. During this time he earned top prizes in competitions such as the ECU Guitar Festival in Greenville, North Carolina, the Young Arts Festival in Miami, Florida, and the Music Academy in Greensboro, North Carolina. John then attended Wake Forest University, studying under Patricia Dixon. During his
education at WFU, he performed in Europe in cities that include Milan, Italy and Postojna, Slovenia. JOHN also won the New York Artists International Competition for 2016. John completed his Masters of Musical Arts degree in guitar performance at Yale University (2013) with Ben Verdery. Along with writing and arranging music, he currently teaches and performs throughout the country.

Kossler Duo performs exclusively with Augustine Strings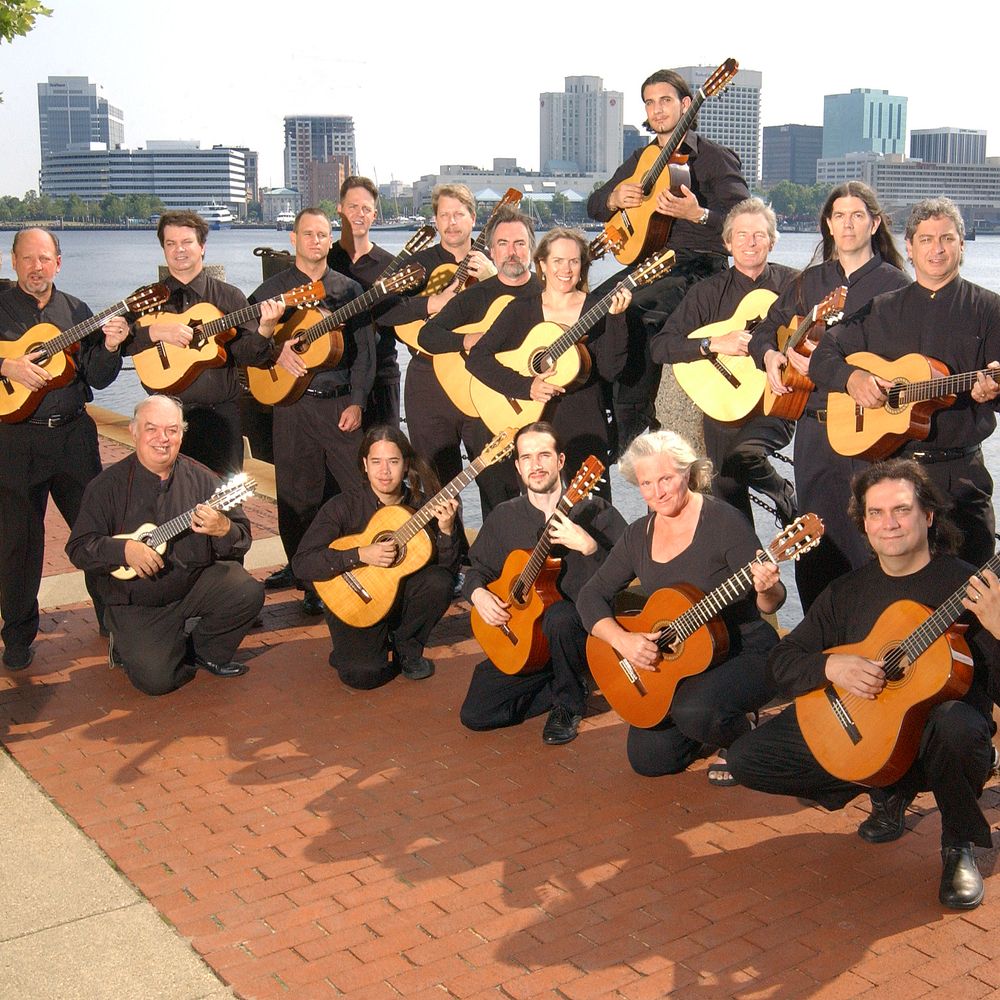 Tidewater Guitar Orchestra
December 8, 2022 @ 7:30 pm
The Tidewater Guitar Orchestra, one of the first of its kind in the United States, is an ensemble of more than a dozen accomplished guitarists who use the lush timbral resources of an orchestra of guitars of different sizes to explore a rich repertoire ranging from Bach to Bartok and specializing in music of the Americas.  Founded in 1995 by Sam Dorsey, the Tidewater Guitar Orchestra was inspired by a similar orchestra in Costa Rica led by Luis Zumbado.  The orchestra is composed of traditional classical guitars supplemented by requintos (soprano guitars tuned a fifth higher) and bajas (baritone guitars tuned a fourth lower). 
The TGO has commissioned new works from composers Andrew York and Ben Verdery and is particularly pleased to perform works written and arranged by its own members.  The orchestra has made numerous appearances locally and represented the United States at the International Guitar Festival in Costa Rica in October of 1999 and again in 2010. 
The ensemble is proud to be included in the Virginia Commission for the Arts Performing Arts Tour Directory and proud of their two CD's; Prelude and Music of Europe and the Americas.  Their recent performances continue to garner glowing reviews. 
"The Tidewater Guitar Orchestra virtually sparkled with technical verve, panache, passion and humor.  Listening to them perform is an absolute delight!"   JoAnn Falletta
TGO's CD, Prelude:
"The Tidewater Guitar Orchestra's "Prelude" mixes classical selections, new music for guitar, and traditional tunes to beautiful effect.  "Prelude" (is) a head-spinning trip around the globe featuring music from Costa Rica, as well as Telemann, Copeland, de Falla, and Andrew York."   The Virginian-Pilot
 "…this was a gorgeous sound that emanated from Roper's stage, with a striking range of colors. For an encore they played an attractive pop-tinged number by John Boyles, one of the group's members.  "Julia" was written by Boyles for his daughter, and its openness and sincerity were characteristic of the concert as a whole."  The Virginian-Pilot
TGO is a performing entity of Tidewater Classical Guitar.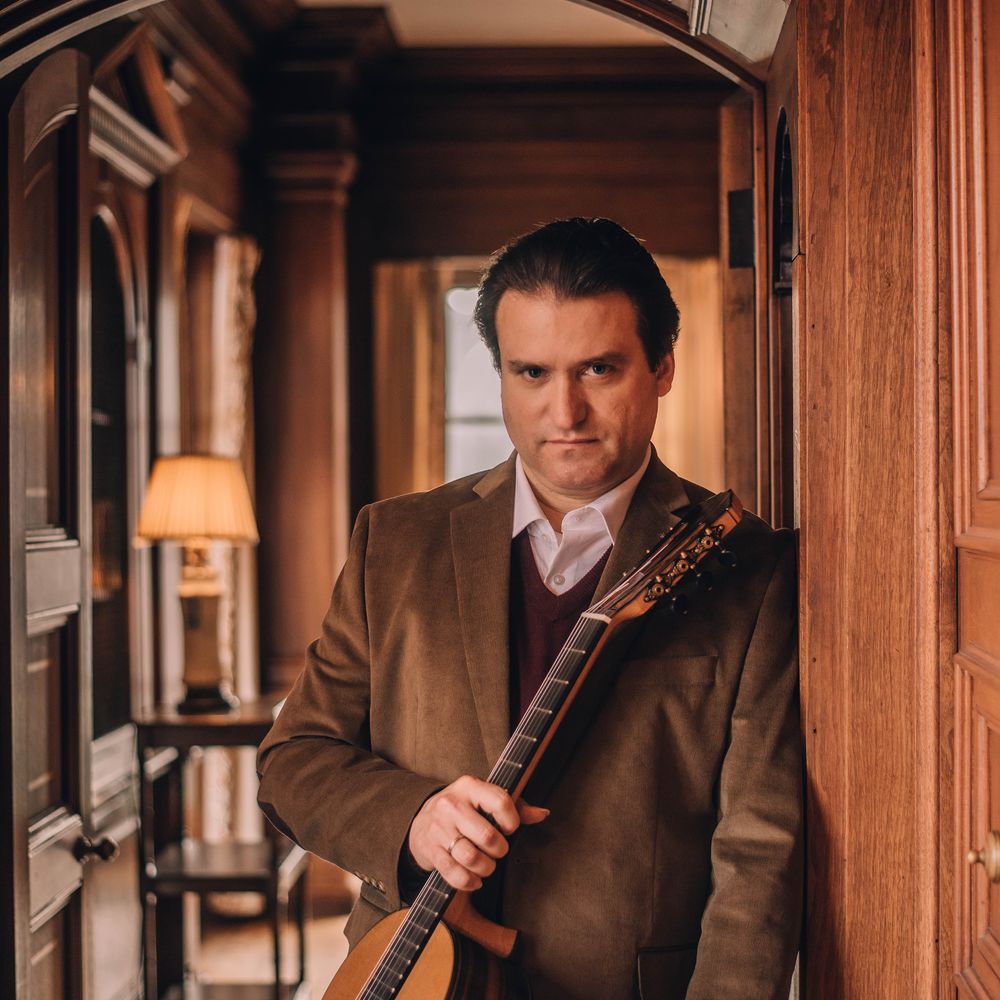 Rene Izquierdo
February 17, 2023 @ 7:30 pm
Cuban-born René Izquierdo is a unique artist and passionate educator whose career has been dedicated to inspiring individuals and connecting communities. Whether passionately performing on stage, devotedly mentoring his students, fundraising, or leading community outreach, René's multi-faceted approach endeavors to continue creating experiences that enrich people's lives and add beauty to our world.
Through his "unforgettable versatility, sensitivity and sublime musicianship" (Classical Guitar Magazine), René has firmly established himself as one of the world's classical guitar virtuosos. He is celebrated for his ability to weave an unparalleled technical command of his instrument with his gift of storytelling, accomplishing an intimate musical experience with his audience. 
With over seventy engagements per year, whether as a solo performer, chamber musician, or as a guest soloist with orchestras, he has performed to critical acclaim touring extensively throughout the Americas, Europe, and Asia. He is frequently invited by renowned festivals and institutions, having played at stages such as Carnegie Hall in New York, Manaus Opera House in Brazil, and National Recital Hall in Taiwan. 
Self-described as a lifelong learner and explorer, his recording projects reflect his wide-ranging interests. Through his discography, René seeks to expand the guitar repertoire frequently performing new arrangements, lesser-known music of the 20th century as well as world premieres of concertos and new compositions.
As an educator, René is passionate about engaging the mind and the heart.
Through his teachings all around the world, he shares his belief that the greatest musicians not only have the technical mastery to communicate effectively but also are deeply curious, and equally adept at analytical and emotional modes of thought.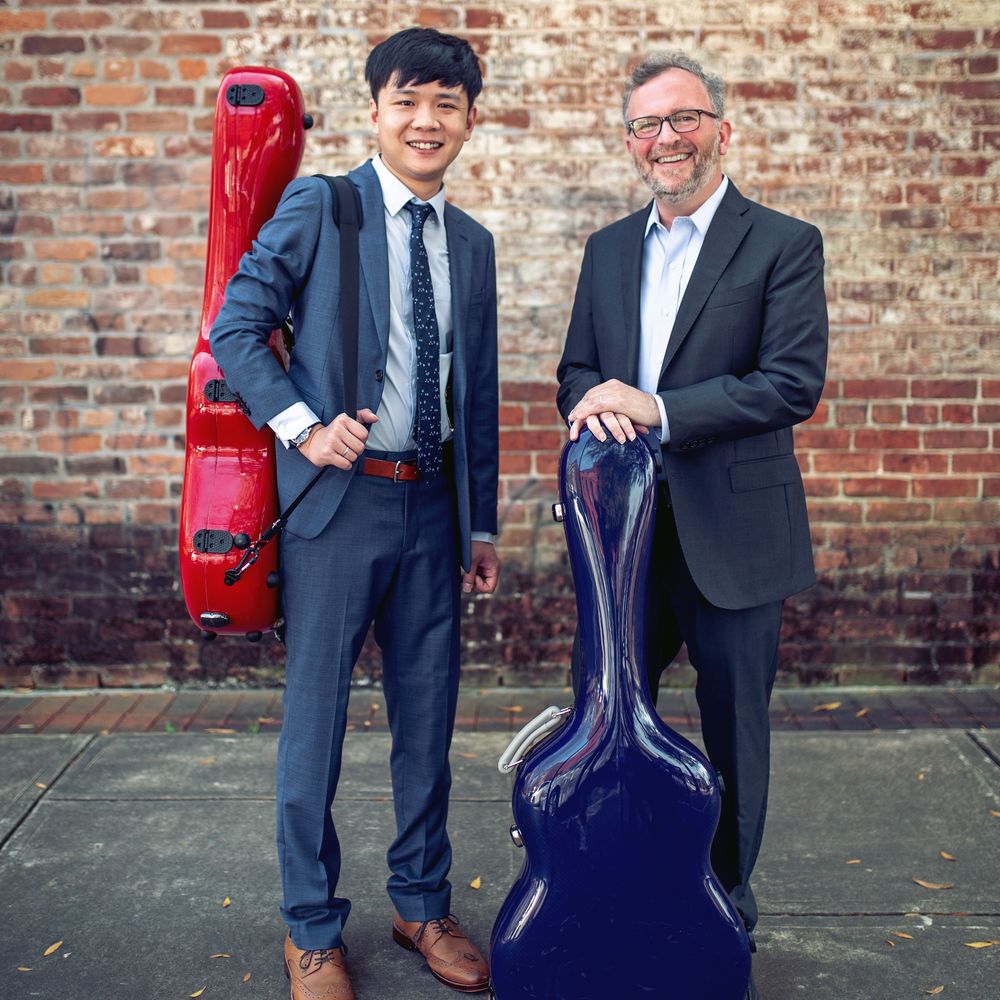 Li & Zohn Duo
March 30, 2023 @ 7:30 pm
Andrew Zohn has enjoyed a decades-long career as a performer, composer, and much sought-after teacher. He has performed concerts on five continents including venues in China, Malaysia, Egypt, Argentina, as well as throughout North America and Europe. Students of Andrew Zohn have won prizes in over 100 international competitions and have been featured on National Public Radio. Original compositions and transcriptions by Andrew Zohn are published through Les Productions d'Oz, Canada, Tuscany publications (Theodore Presser), and FJH Publications. His recordings for Clear Note and Centaur Records have received wide acclaim from American Record Guide, Classical Guitar Magazine, GuitArt Magazine, Soundboard, Guitarra Magazine, and Rosewood Review. Zohn's latest solo recording Eterna Saudade was released in 2019 through Contrastes Records (Spain).
Erdong Li has performed on the guitar throughout China and the United States, with the mission of promoting cultural exchange through musical celebration. Currently serving on the faculty of the Schwob School of Music (Columbus State University), Li also is vice-chairman of the Wenzhou Guitar Association (China) and tours throughout China annually as a part of W.E. Duo with violinist Weiru Sheng. Li received his Master's Degree at the Schwob School of Music and holds a Bachelor's Degree in classical guitar performance from the Central Conservatory of Music in Beijing. During his time in Beijing, he was also actively performing on electric guitar in a rock band throughout the region. This rich combination of influences from two cultures results in a truly special approach to music, one which includes a variety of styles ranging from acoustic folk to electric guitar, and which allows students to develop brilliant sound, solid musical skills, and abundant creativity.