Artist Bios 2021-2022 in Concert Order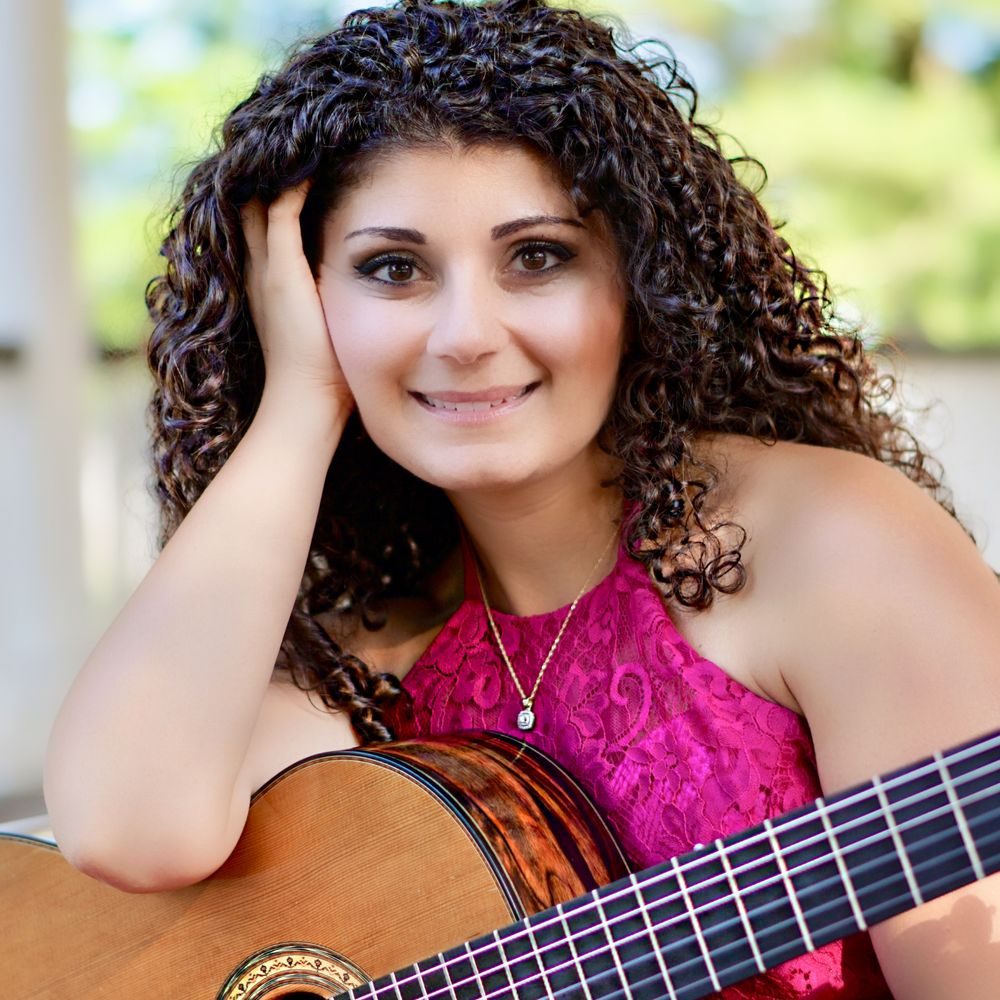 Gohar Vardanyan
October 8, 2021 @ 7:30 pm
Widely admired for her technique, artistry, and passionate performances Armenian guitarist Gohar Vardanyan has performed throughout the United States and internationally. She has performed for numerous guitar societies, universities, and arts organizations, including the Smithsonian Institution in Washington, DC, Alice Tully Hall at Lincoln Center, and guitar societies in Seattle, San Francisco, Houston, Miami, and New York City to name a few. She has appeared on National Public Radio in the United States and Radio Nacional in Argentina. Ms. Vardanyan has performed with the Juilliard Opera Center and as a soloist with the Great Lakes Chamber Orchestra and Panama National Symphony Orchestra. She has also been a guest artist at International Guitar Festivals in Sweden, Italy, Panama, Canada, and Mexico. She has been featured on the cover of Classical Guitar Magazine. Guitar International Magazine has described her as "the complete package," "with a musicality and emotional quality . . . that one would expect from someone much older than the young wunderkind. Not only is she able to draw you into her performances with engaging musical interpretations, but she has the technical facility that is required of any concert level guitarist." Her playing has been described as "passionate," "evocative," and "virtuosic."
In addition to her performing career, Ms. Vardanyan is an avid teacher. She maintains a private studio in New York City and frequently teaches master classes and guitar technique workshops during her concert travels.  Ms. Vardanyan is an author of four books from Mel Bay Publication and has an extensive list of instructional guitar videos on both her own and the Strings by Mail channels on YouTube. 
Ms. Vardanyan began studying the guitar in her native Armenia at the age of five under the careful guidance of her father, Vardan Vardanyan. At the age of eight, she gave her first public performance and also appeared on Armenian National Television. She was the first prize winner in the Armenian National Music Contest "Amadeus" and was accepted into the prestigious group, "New Names," for talented young musicians. She performed in numerous concert venues in Armenia, including Komitas Chamber Music Hall and the Small Philharmonic Hall. She went on to study with Antigoni Goni at the Pre-College Division of the Juilliard School. In 2001, Ms. Vardanyan studied with John Wunsch at the Interlochen Arts Academy. She was awarded the Young Artist's Certificate from Interlochen Center for the Arts and the Harold Randolph Prize in performance from the Peabody Conservatory.
Ms. Vardanyan holds a Master of Music Degree from The Juilliard School where she studied with Sharon Isbin, and a Bachelor of Music degree from the Peabody Conservatory of Music where she studied with Manuel Barrueco. She is also an alumna of the Aspen Music Festival and School.
Gohar Vardanyan is sponsored by Strings by Mail and plays on Royal Classics Recital strings.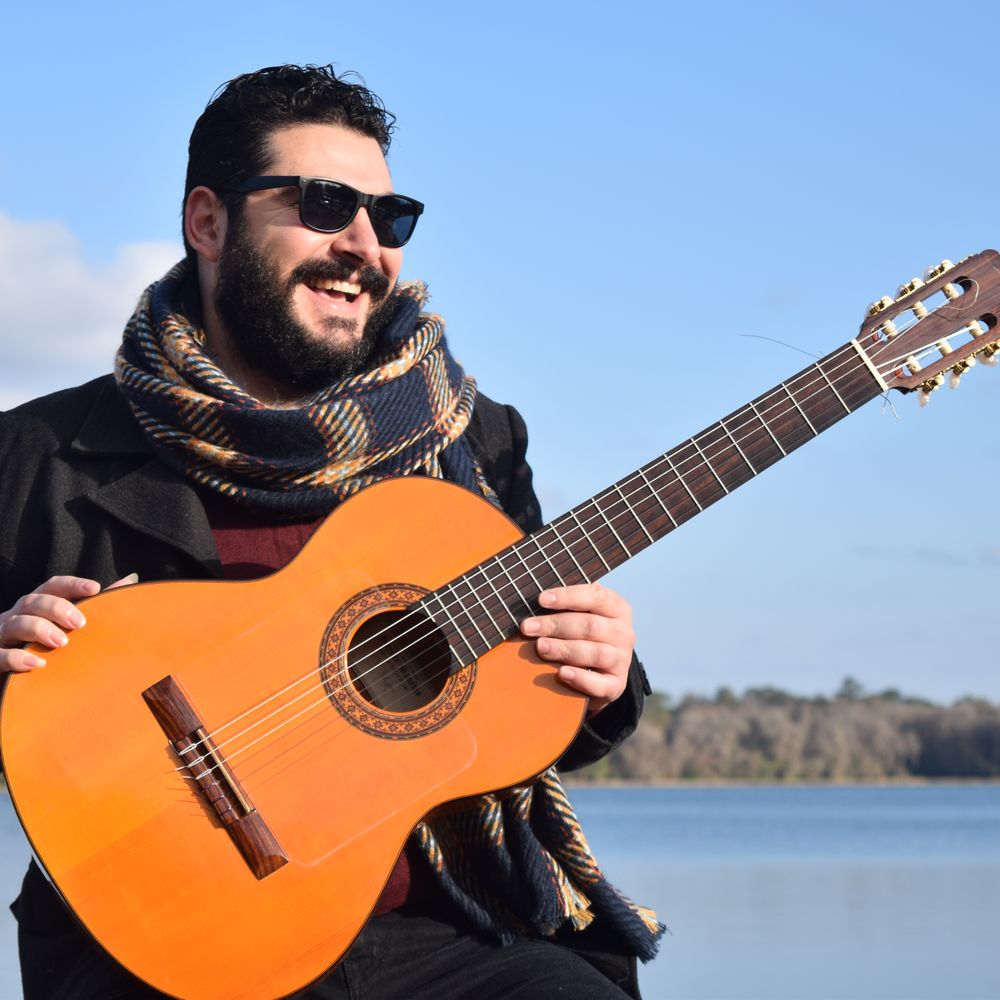 Silviu Ciulei
November 5, 2021 @ 7:30 pm
Classical and flamenco guitarist Silviu Octavian Ciulei was born in Constanta, Romania. He began his musical studies at age six and attended the High School of Arts. By age thirteen, he had won his first performance prize. Many awards soon followed including First Prizes in the National Music Olympics and Triple Consecutive First Prize Winner and Gold Medalist at the "George Georgescu" International Music Performance Competition.  He graduated at the top of his class and was selected to perform as soloist with the Black Sea National Philharmonic Orchestra.
In 2004, Silviu was awarded a Full International Scholarship to study guitar performance with Dr. William Yelverton at Middle Tennessee State University located in the Nashville Music City USA area of Tennessee. Silviu is MTSU School of Music's first Full International Music Scholar and first Four-Time Undergraduate Research and Creativity Scholar and Grant recipient. Upon his graduation from MTSU he was awarded the "Outstanding Achievement in Guitar Performance" Award.
Since coming to the United States, Silviu has won an impressive collection of prizes. Among these, First Prize in the Schadt String International Concerto Competition, First Prize at the Indiana International Guitar Competition, First Prize at the East Carolina University Summer Guitar Festival and Competition, First Prize in the Texas International Guitar Competition, First Prize in the Columbus Guitar Symposium, First Prize in the Appalachian Guitar Festival. A recent top prize winner in some of the most prestigious competitions in the world including the Guitar Foundation of America International Concert Artist Competition and the Parkening International Guitar Competition, Silviu is a world-class performer. While competing in the Parkening Competition, Soundboard Magazine confirmed Silviu gave "… a solid performance!" Acoustic Guitar Magazine featured Silviu in their "30 under 30" article "...Silviu Ciulei brings extraordinary touch to both classical and flamenco repertoire. He has delighted audiences and taken first prize in an impressive number of international competitions"
Silviu is also an acclaimed flamenco guitarist. He traveled to the south of Spain to study flamenco guitar where he lived in Cadiz, Madrid and Seville. Some of his flamenco mentors include Adam del Monte, Ricardo Nunez, and Oscar Guzman. He has performed with his flamenco quintet Tequila Flamenco Group at the Guitar Foundation of America International Convention at Oberlin Conservatory, headlined the Eastfield Guitar Festival in Dallas, TX and appeared live on numerous occasions on National Public Radio and TV in the US and abroad.
Recent solo engagements and with his new flamenco project Maharajah Flamenco Trio include an array of performances, teaching and educational outreach series at Furman University, Wake Forest University, and University of Florida, as well as many festivals such as the Southern Guitar Festival, the Eastern Shore Guitar Festival, Florida Folk Festival, Radford Guitar Festival, Rhode Island Guitar Festival, and Mid-Maryland Guitar Festival. Silviu has also appeared as soloist with the Black Sea National Philharmonic, National Orchestras of Romania in Braila, Galati and Constanta, as well as here in the US with the Nashville Philharmonic, Allentown, Tallahassee, Hendersonville Symphony Orchestras.
Silviu holds a Bachelor of Music (BM) from Middle Tennessee State University, and a Master of Music (MM) and Doctor of Music (DM) in Guitar Performance from the Florida State University College of Music. While at FSU, Silviu was Graduate Teaching Assistant to distinguished professor Bruce Holzman. In addition to being a classical and flamenco guitarist, Silviu is also a fine flamenco singer and always fascinated with languages he speaks five fluently.
Dr. Silviu Ciulei is currently Director of Guitar Studies at University of Florida where he teaches a wide array of talented international guitar students at both the undergraduate and graduate level. He has been on the guitar faculty at Florida State, Furman and Wake Forrest Universities prior to that. A very sought after modern and dynamic artist, teacher, composer, mentor and adjudicator at international competitions, Silviu is featured regularly at many guitar festivals, workshops and conventions in the US and around the world.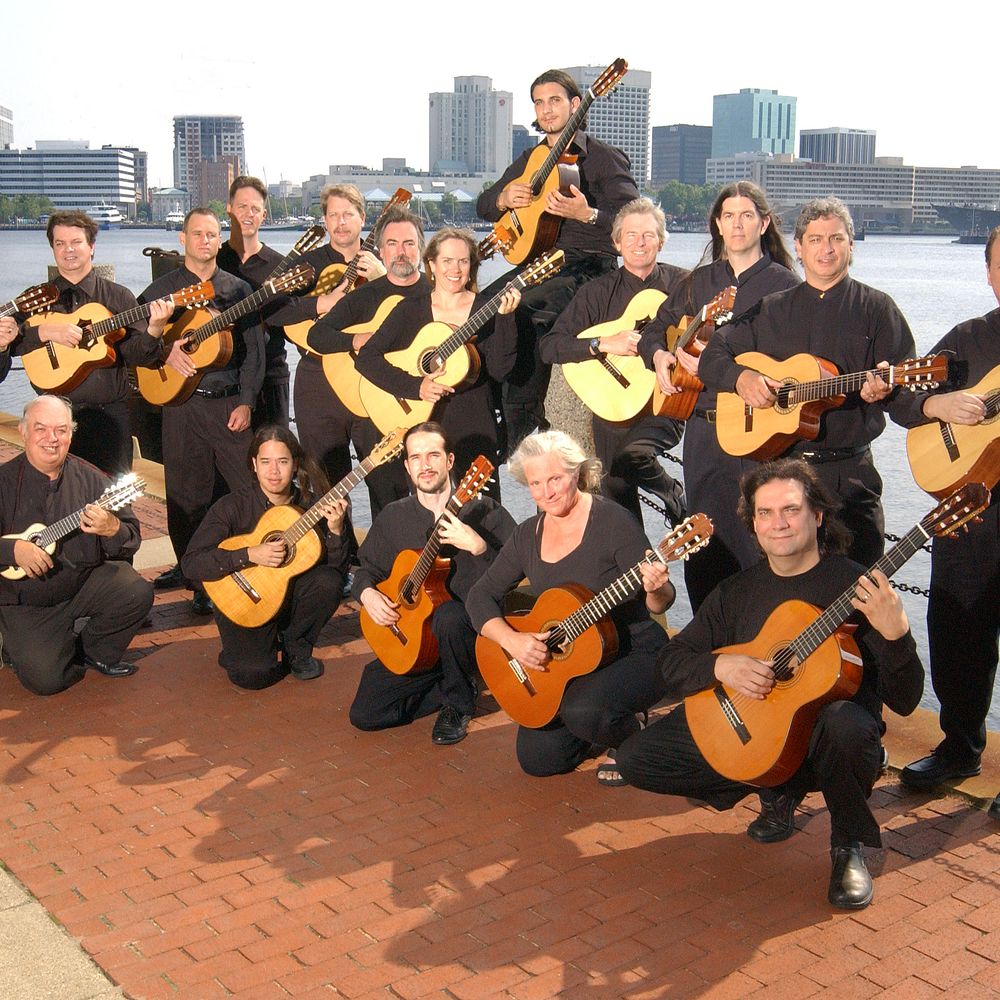 Tidewater Guitar Orchestra
February 18, 2022 @ 7:30 pm
The Tidewater Guitar Orchestra, one of the first of its kind in the United States, is an ensemble of more than a dozen accomplished guitarists who use the lush timbral resources of an orchestra of guitars of different sizes to explore a rich repertoire ranging from Bach to Bartok and specializing in music of the Americas.  Founded in 1995 by Sam Dorsey, the Tidewater Guitar Orchestra was inspired by a similar orchestra in Costa Rica led by Luis Zumbado.  The orchestra is composed of traditional classical guitars supplemented by requintos (soprano guitars tuned a fifth higher) and bajas (baritone guitars tuned a fourth lower).  The TGO has commissioned new works from composers Andrew York and Ben Verdery and is particularly pleased to perform works written and arranged by its own members.  The orchestra has made numerous appearances locally and represented the United States at the International Guitar Festival in Costa Rica in October of 1999 and again in 2010.  The ensemble is proud to be included in the Virginia Commission for the Arts Performing Arts Tour Directory and proud of their two CD's; Prelude and Music of Europe and the Americas.  Their recent performances continue to garner glowing reviews. 
"The Tidewater Guitar Orchestra virtually sparkled with technical verve, panache, passion and humor.  Listening to them perform is an absolute delight!"   JoAnn Falleta, June 8, 1999 
TGO's CD, Prelude:
"The Tidewater Guitar Orchestra's "Prelude" mixes classical selections, new music for guitar, and traditional tunes to beautiful effect.  "Prelude" (is) a head-spinning trip around the globe featuring music from Costa Rica, as well as Telemann, Copeland, de Falla, and Andrew York."   Virginian Pilot, 2000 
 "…this was a gorgeous sound that emanated from Roper's stage, with a striking range of colors. For an encore they played an attractive pop-tinged number by John Boyles, one of the group's members.  "Julia" was written by Boyles for his daughter, and its openness and sincerity were characteristic of the concert as a whole."  Virginian Pilot, 2005
TGO is a performing entity of Tidewater Classical Guitar.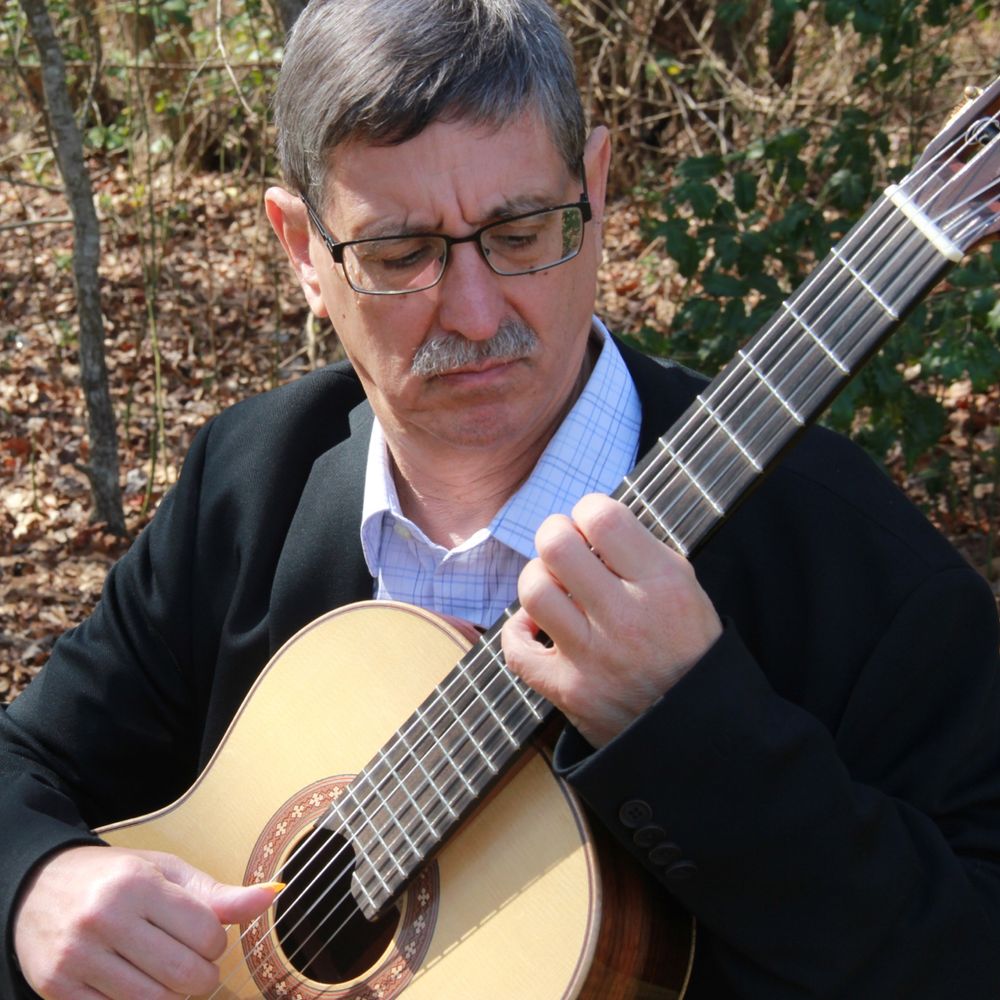 Elliot Frank
March 24, 2022 @ 7:30 pm
Applauded by critics and audiences for his unique blend of powerful virtuosity, beautiful tone, and natural musicianship, Elliot Frank is a frequent guest performer and teacher at guitar festivals, as concerto soloist and on concert series throughout the Americas and Europe. Most recently he has appeared at the Florida Guitar Festival, the Utah Classical Guitar Society, Great Guitarists at Stetson, as concerto soloist with the McClean Orchestra, and at the CSU Guitar Symposium. Other highlights include performances for the Mediterranean Guitar Festival in Cervo, Italy, the Sea and Guitars Festival in Vrsar, Croatia, the inaugural Encuentro Internacional de Guitarra Villa Caletas in Herradura, Costa Rica, Sauble Beach Festival of the Classic Guitar in Sauble Beach, Ontario and at the Sixth Guitar Festival of the Dominican Republic. He has also been a featured performer at the 2006 Guitar Foundation of America Festival, the Alexandria Guitar Festival, the Festival Lachine in Montreal, Canada,  and at the Southwest Guitar Festival in San Antonio. He has also performed for the North Carolina Bach Festival, the Tennessee Guitar Festival, and the East Carolina University Summer Guitar Festival, where he serves as Artistic Director. His first compact disc, South American Guitar Music, has been praised as being "eloquent" and "delightful."  An aficionado of guitar music of Hispanic cultures, he has performed lecture/recitals pertaining to the music of Antonio Lauro for the Guitar Foundation of America at international festivals in Pasadena and New Orleans. He recently gave the world premiere of Concerto da Camera for guitar and chamber orchestra by Mark Taggart in March of 2016, and premiered the E Sonata by Andrew Zohn in 2004..
Elliot Frank is also a prizewinner in national and international competitions including the Concurso Internacional de la Casa de España in San Juan, Puerto Rico. Elliot Frank was selected to initiate the guitar studies program for East Carolina University and holds the position of Professor of Guitar in addition to maintaining an active concert schedule. His students and alumni, continue to distinguish themselves with an impressive array of first prizes in national and international competitions, and they hold teaching positions at universities across the United States.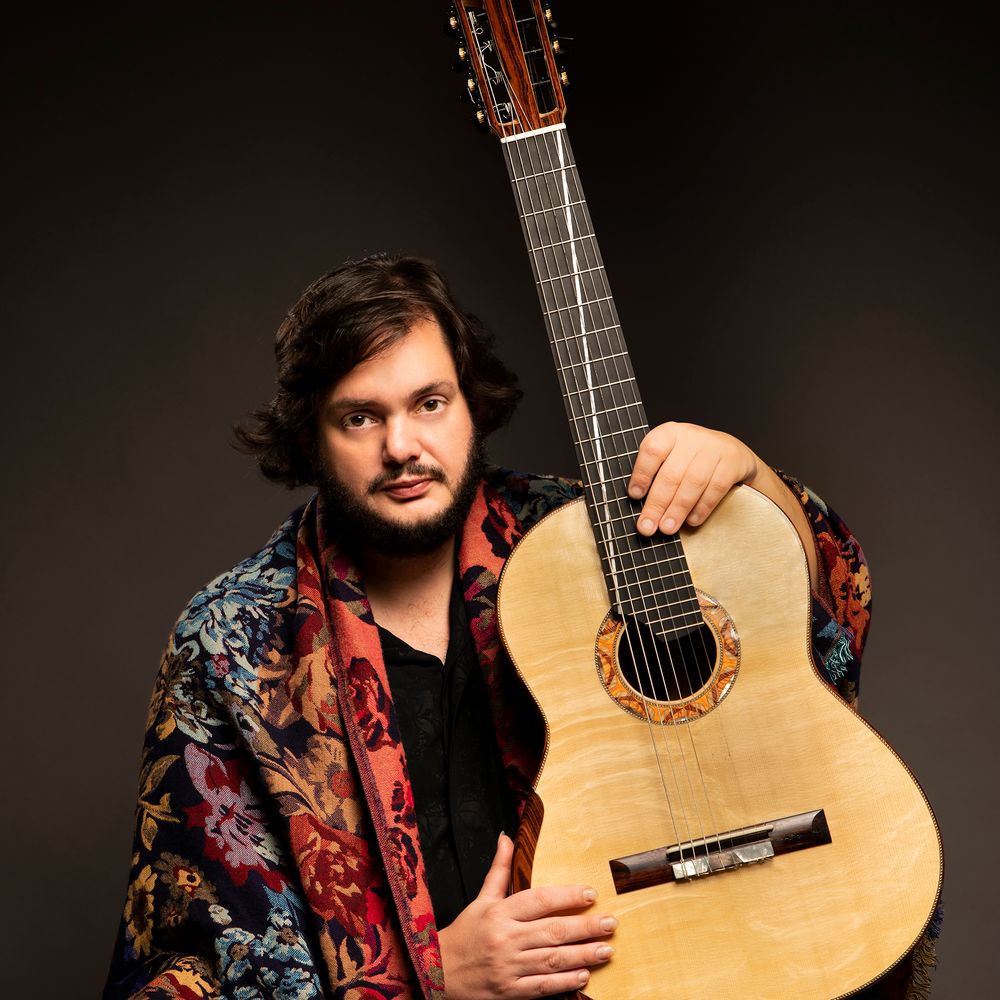 Yamandu Costa
April 13, 2022 @ 7:30 pm
The guitar's central role in Brazilian culture has resulted in a rich, vibrant repertoire. From the groundbreaking modernist experiments of Heitor Villa Lobos and the Bossa Nova of João Gilberto, to the afro-sambas of Baden Powell and the wide-ranging work of the Assad brothers, brilliant players abound in this
fertile musical environment. Yamandu Costa, the youngest in this stellar lineage, is a spectacular guitarist and composer who makes music with soulful passion, playful grace, and stunning virtuosity that has transcended the borders of Brazil and become universally acclaimed wherever he performs. 

Born in 1980 in Brazil's southernmost state, Rio Grande do Sul, where the country borders on both Argentina and Uruguay, young Costa grew up with the music of those Spanish-speaking cultures alongside the European- and African influenced styles of Brazil. At seven, he began studying guitar with his father, Algacir Costa, who led a band famous in the region for its mix of jazz, folk, tango, indigenous, and dance-band favorites—an eclecticism that marks his virtuosity and makes his technical skill far more striking and instantly accessible. After studying with Argentine Lúcio Yanel, he got turned on to Bossa Nova and then fell under the spell of the late Raphael Rabello, who popularized the seven-string guitar with his samba-flavored tunes and sympathetic
accompaniment and arranging. After performing in São Paulo for a few years, he moved to the more easy going Rio de Janeiro and hooked up with the instrumentalists associated with choro, a kind of funky, free-flowing, and mostly
instrumental style (despite meaning cry in Portuguese) associated with the famous port city.
Nominated for a Latin Grammy Award in 2010, 2014, 2018, and 2020, Yamandu is a unique guitar player, composer and arranger, improviser and interpreter who does not fit into a single category, but instead creates his own when playing his 7-string guitar. Extensive touring has showcased his genius and natural ability of enchanting the audience at sold out venues in Brazil and around the world. Many
established and well-known musicians have invited Yamandu for live projects and recordings including Bobby McFerrin, Richard Galliano, Doug de Vries, Gilberto Gil, Toquinho, João Bosco, Ney Matogrosso, Roberta Sá, Naná Vasconcelos, Renato Borghetti and many more. The music documentary by Finnish filmmaker Mika Kaurismaki, called "Brasileirinho" featured jaw-dropping performance by Yamandu Costa, increasing his reputation on the international scene. So far, Yamandu has recorded 13 CDs and 3 DVDs, solo, in duo or with his trio. He has also performed as featured soloist with the Brazilian Symphony Orchestra, Symphony Orchestra of São Paulo, Calgary Philharmonic, and the Orchestre National de France.

His passion and unique style has inspired many young musicians who are following his new school of playing the guitar. Yamandu Costa continues to record and tour around the world and plans to perform more often in North America.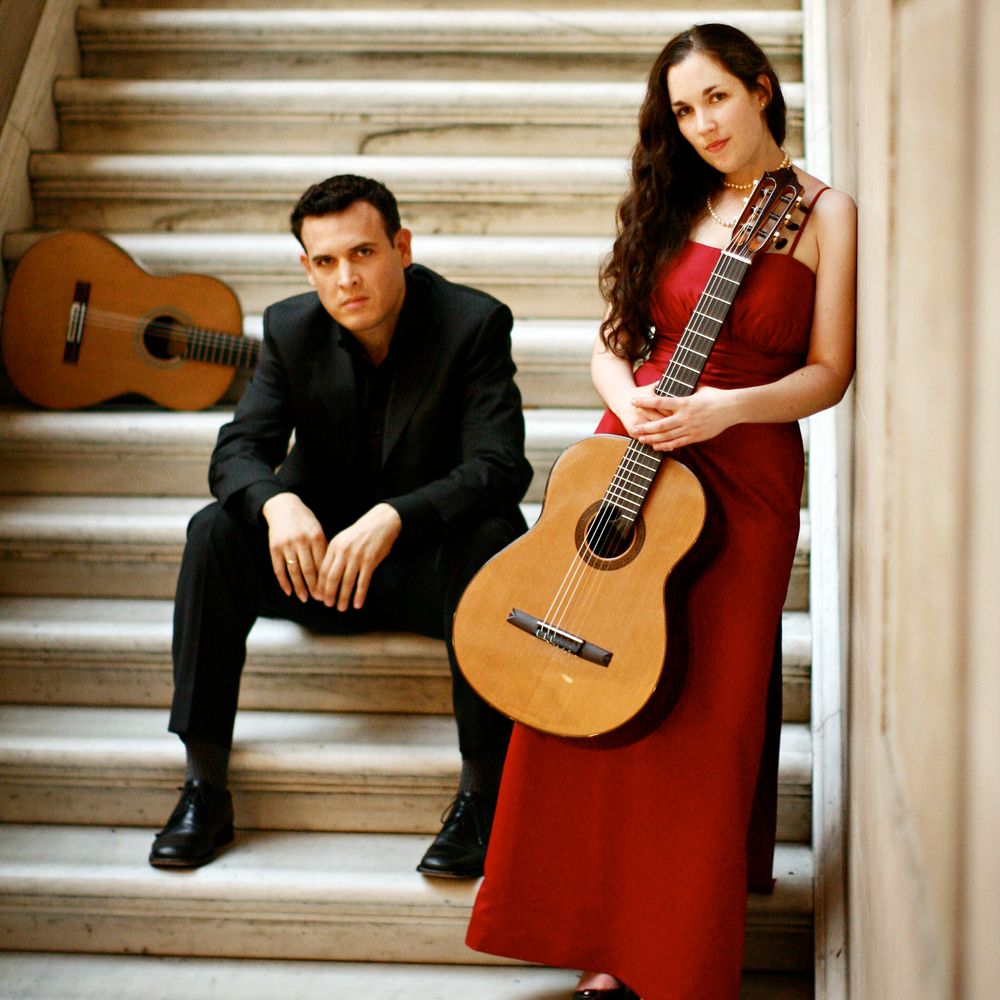 Duo Amaral
April 29,2022 @ 7:30 pm
Jorge Amaral and Mia Pomerantz-Amaral formed Duo Amaral in 2008 and were soon established in the international guitar scene, garnering high accolades from the media and from devoted audiences. During a tour in Italy, their recital was described in Il Messaggero Veneto as "masterful, with poetic virtuosity and intensity of expression".  Mike Telin of ClevelandClassical.com, described the duo as "superb, thoughtful musicians". 
Their debut album 'Súplica' was released in 2011, featuring the title work: a world-premier composition written by Mr. Amaral's father, Victor Manuel Amaral Ramirez. Céline Keating of Minor 7th Magazine described the CD as "...a sublime album of classical music for two guitars...". Their Second album 'Textura' was released in 2013 and includes several of their own arrangements. Al Kunze of Soundboard Magazine describes: "Duo Amaral's Textura is a superb disc, featuring beautiful music, exquisite playing, and exemplary recording. Mia Pomerantz-Amaral and Jorge Amaral play with extraordinary precision allied with delicacy, nuance, and virtuosity in equal measures." (March 2014). And Bradford Werner of This is Classical Guitar continues: Textura "…deliver[s] some of the best ensemble work, musical expression, and repertoire. Another great album release!… One of the premier classical guitar duos of today!" Their latest album 'Key West' was released in March of 2017 and features an all Latin-American program including the world premier of 'Key West Suite', dedicated to the duo. Classical Guitar Magazine described the CD as "… a knockout - brimming with sensational, synchronous playing on a lively and challenging set of modern pieces… outstanding duo". 

The Amarals completed their studies at the renowned Peabody Conservatory of Music of the Johns Hopkins University in Baltimore, Maryland where they both were awarded Master of Music and Graduate Performance Degrees under the tutelage of Manuel Barrueco, Julian Gray and Ray Chester. They have toured in Italy, Germany, France, Switzerland, Poland, Panama, Mexico, Israel, Cyprus and the USA, as performers and jurors, also offering workshops and masterclasses. Ms. Pomerantz-Amaral began her studies at the Rubin Academy of Music in Jerusalem, Israel, studying with Irit Even-Tov. She has won the Top Prize at Guitar Gems International Competition in Natanya, Israel, Second Prize at the 38th Fernando Sor International Competition in Rome, Italy as well as the special prize winner of 'Best Interpretation of a Piece by Sor'. She also received a scholarship from the Keren Sharett American-Israeli Foundation Scholarship. Finalist and prize winner is several competitions as well, Jorge Amaral graduated with his BM and MM from the Santa Cecilia Conservatory in Rome under the tutelage of Giuliano Balestra. He was the First Prize winner of the 29th Fernando Sor International Competition in Rome as well receiving the prize for Best Interpretation of a Piece by Sor that year.
Duo Amaral founded the Baldwin Wallace International Guitar Festival and Competition (2012) as well as the Federal Hill International Guitar Series (2014) Their contribution to the guitar duo repertoire includes transcriptions and commissioning of new compositions, to be performed and incorporated into the classical guitar canon. Devoted teachers, many of their students have placed as top prize winners for the past ten consecutive years in some of the most prestigious national and international guitar competitions in the USA such as the Guitar Foundation of America, the Beatty Competition in DC and others. Their students were also selected to perform in Carnegie Hall in NY and open concerts for David Russell and others as part of the Marlow Guitar Series.