Artist Bios 2023-2024 in Concert Order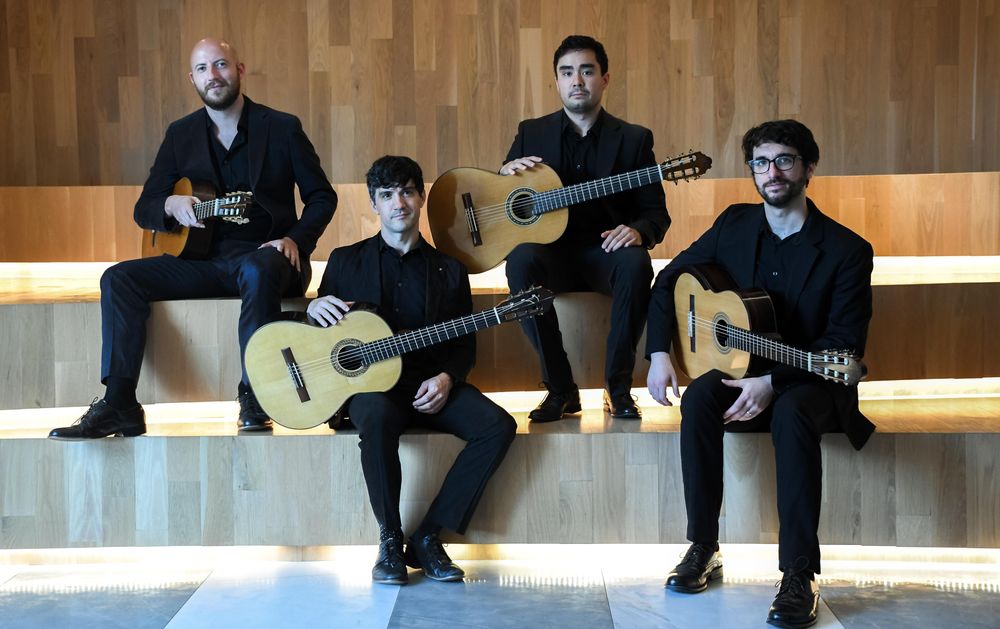 New York City Guitar Quartet
September 22, 2023 @ 7:30 pm
NYCGQ is a dynamic guitar quartet focused on bringing exciting new works along with unique interpretations and arrangements from the standard repertoire to the classical guitar world. Featuring Jordan Dodson, Phil Goldenberg, Tom Clippinger and Dan Lippel—their accolades range from numerous prizes in international competition, a residency on American Public Media's Performance Today, and a GRAMMY nomination—this ensemble embodies the future of the classical guitar.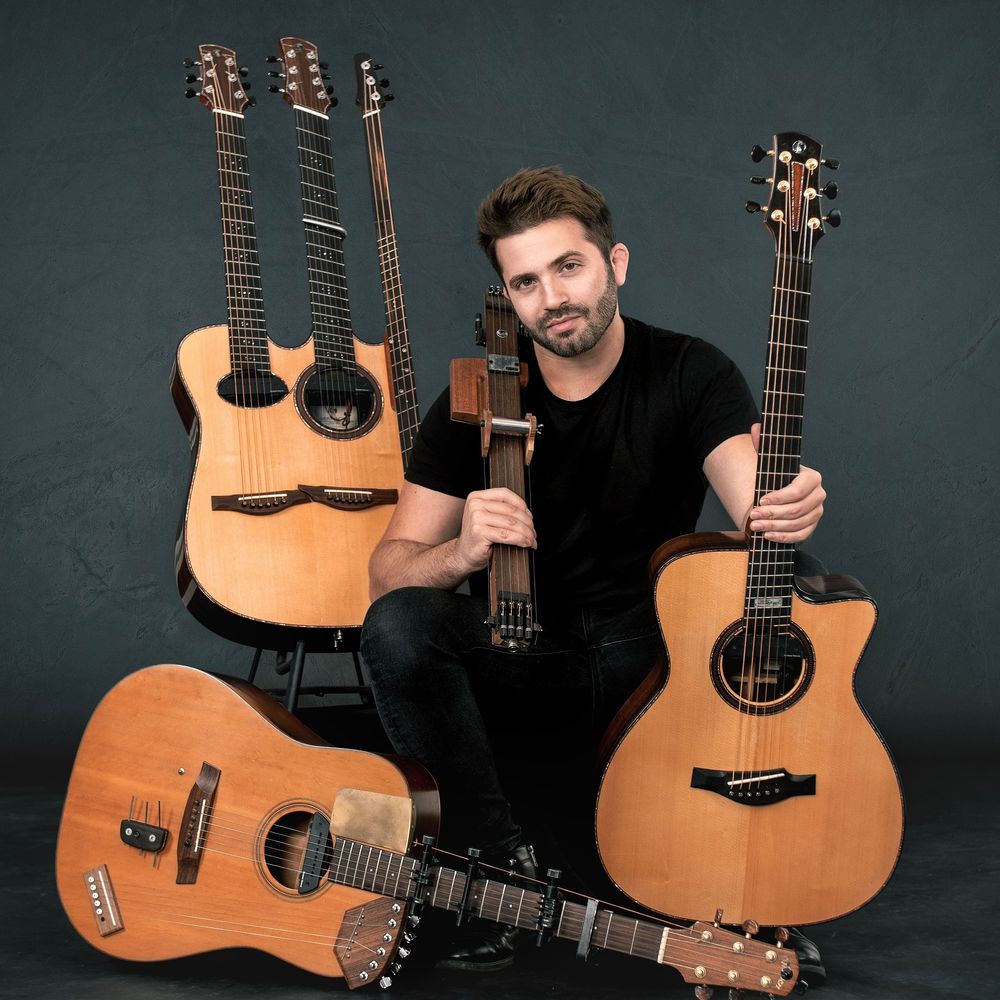 Luca Stricagnoli
October 26 & 27, 2023 @ 7:30 pm
With his music videos exceeding 100 million and bookings in every corner of the globe, Luca Stricagnoli is considered one of the most interesting acoustic guitarists in the world.
Using up to five guitars in the same piece, modified capos, and self-conceived stratagems, Luca continually leaves his audiences in awe and wondering what's next for the up-and- coming guitarist. In addition to his musical abilities, Luca brings an enthusiastic energy to the stage that makes him a true entertainer.
His latest invention, a custom Triple Neck Guitar, obtained once again viral success with over 40 million views online. His performances with this instrument have been featured in magazines everywhere and even grabbed the attention of famous bands such as "Red Hot Chili Peppers". Luca has played in more than 20 countries and in front of audiences up to 12,000 people.
DESCRIPTION OF THE SHOW
The show consists of a succession of incredible guitar performances, each different than the others. One guitar, two guitars at the same time, a guitar with three necks, guitars played with feet, with a kitchen knife or laying horizontally: people won't believe their eyes and ears and will instinctively want to start filming with their cellphones. From rock to pop, from soundtracks to hip hop, from arrangements to originals. Surprising and full of twists, never repetitive or boring, the show will surely impress and be remembered. Besides from the astonishing guitar playing, the concert is filled with jokes and anecdotes that explain through fun and humour the story behind what's happening. People won't just see crazy things, they will be explained in an interactive way what's going on and the reason behind every gimmick.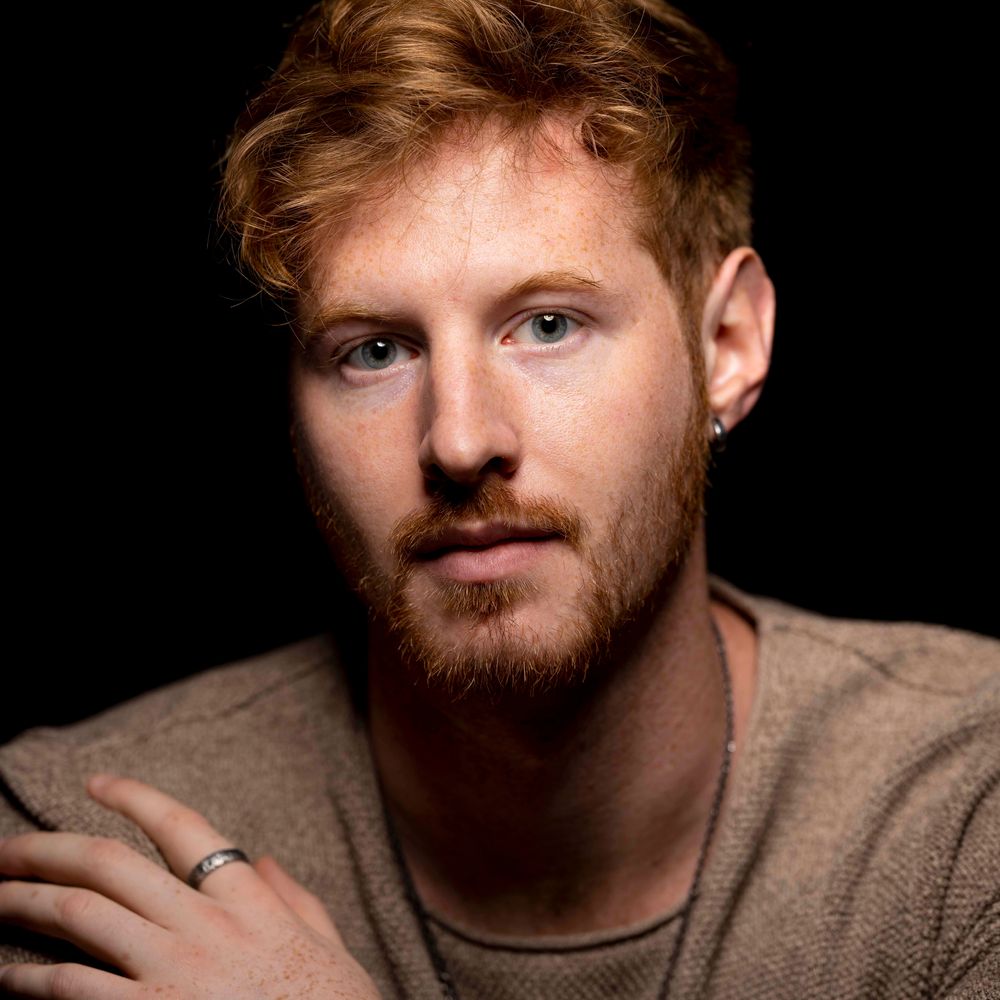 Alec Holcomb
November 18, 2023 @ 7:30 pm
Alec grew up in Tennessee and was influenced by the various styles of guitar music that his grandfather and father played. When he was 6, Alec started learning the classical guitar from his father. During his high school years, Alec studied with Dr. Andrew Zohn, who teaches at Columbus State University in Georgia. It was then that Alec began seriously participating in competitions and found some success. Alec continued his education at the Curtis Institute of Music, where he completed his undergraduate degree with David Starobin and Jason Vieaux. Alec subsequently received his master's degree at the San Francisco Conservatory of Music with Judicaël Perroy, aided by the mentorship of David Tannenbaum.
Alec attributes his stylistic choices to the intensity, inertia, and grounded nature of metal, in combination with the subtlety, groove, and contemplative nature of jazz. While there are numerous genres that inspire Alec's music making, these two have remained the most influential.
In an attempt to broaden the repertoire and scope of the instrument, one of Alec's objectives is to transform music for the purposes of the guitar. He achieves this by creating original transcriptions and arrangements, and by composing and editing music for the instrument. Alec's fascination with overcoming the guitar's seemingly endless technical intricacies is another driving force behind his work. This fascination is satisfied by adopting and manipulating extrinsic music to sound and feel intrinsic on this beautiful, occasionally finicky, instrument.
Alec is a firm believer that the classical guitar offers an unparalleled and unique listening experience, and his primary passion is to connect music lovers with the beauty and energy that the instrument has to offer.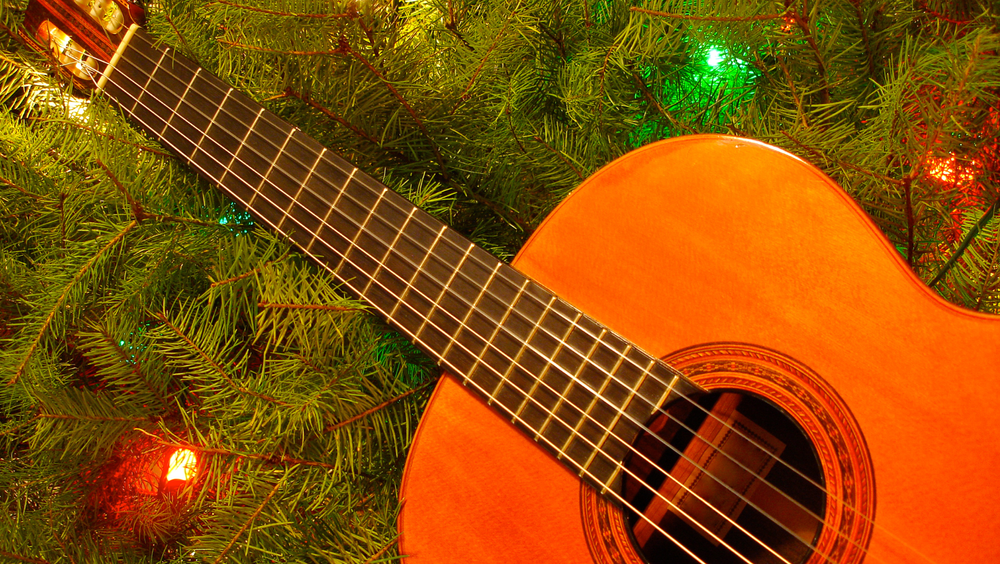 TCG Holiday Showcase
December 7, 2023 @ 7:30 pm
Our holiday inspired concert has become a staple of our season, bringing everyone so much joy and togetherness for audiences and performers alike! Join us for a festive concert featuring the Tidewater Guitar Orchestra along with some of Hampton Roads' most talented guitarists and musicians in beautiful downtown Williamsburg!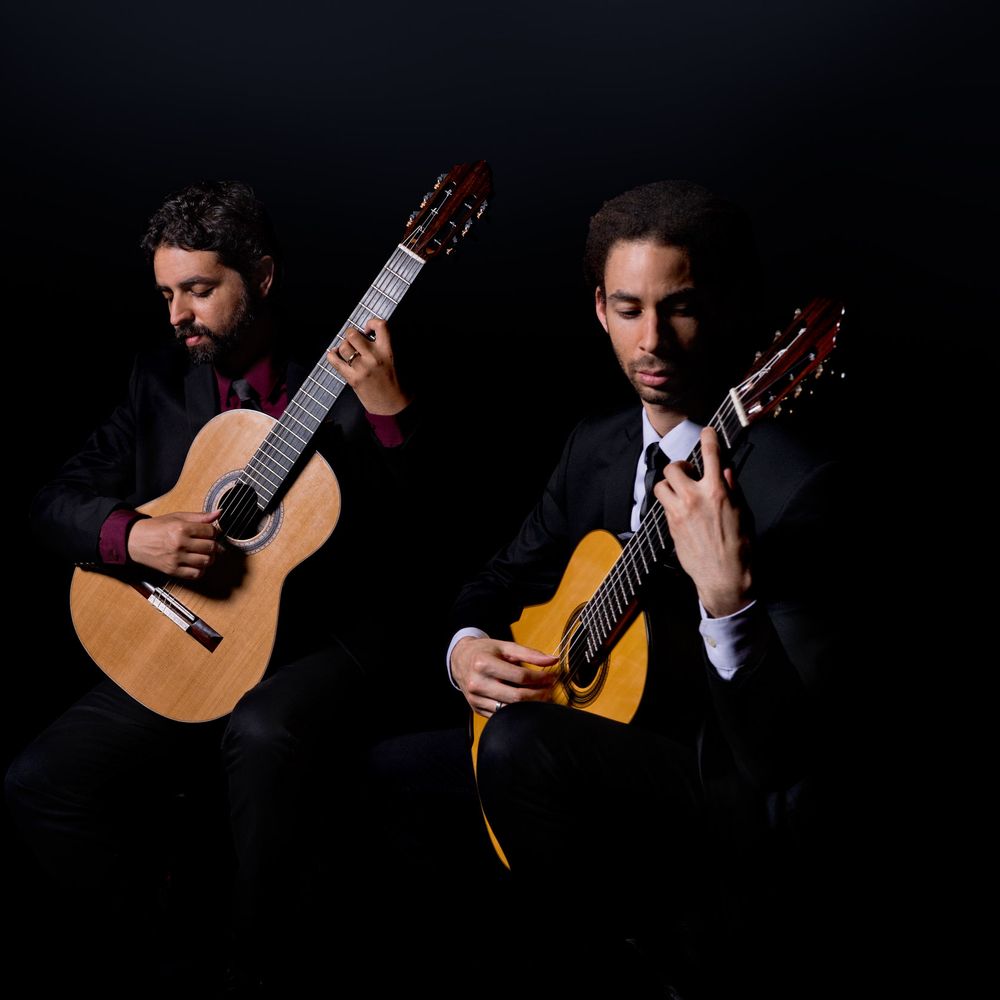 Duo Noire
February 22 & 23, 2024 @ 7:30 pm
Duo Noire is a "virtuosic pair" (I Care if You Listen) of the pioneering American classical guitarists, Thomas Flippin and Christopher Mallett. Focusing on audience-friendly contemporary music, their concerts offer "profoundly enjoyable" genre-bending repertoire with "spectacular precision" (St. Louis Post- Dispatch).
After their 2014 EP release, FIGMENTS, featuring Juilliard professor Raymond Lustig's masterful 30-minute composition for the duo, Duo Noire gained international prominence with the 2018 release of their full-length debut album, Night Triptych, on New Focus Recordings. Named as an Editor's Choice for top classical music albums of 2018 by both All Music and I Care if You Listen, the album featured new works exclusively written for Duo Noire by accomplished women composers: GRAMMY-nominee Clarice Assad, Courtney Bryan, E.C.M. Artist Golfam Khayam, Mary Kouyoumdjian, Gity Razaz, and Gabriella Smith. The project was launched with a 2015 grant from the Diller-Quaile School of Music to help the duo make classical guitar concerts more gender-inclusive. The album was hailed as an "astounding...goldmine of ideas and feelings" (Stereophile), a "marvelous recital" (Limelight Magazine), "truly pathbreaking" (All Music), and "an important disc" (The Arts Fuse).
Recent highlights include giving the world premiere of GRAMMY-nominee Nathalie Joachim's new work for Duo Noire, Held Together; filming a premiere recording at Severance Hall with members of The Cleveland Orchestra; receiving a standing ovation at the 2022 Guitar Foundation of America Convention; and premiering new works by the renowned guitarist and Yale professor Benjamin Verdery, as well as a new work by U.C. Santa Cruz composition professor Karlton Hester.
Duo Noire's work has been featured in Acoustic Guitar Magazine, Classical Guitar Magazine, the Guitar Foundation of America's journal Soundboard, and Chamber Music Magazine. Their recordings have aired on radio stations nationwide, including WQXR's New Sounds in NYC. Past highlights include fellowships for contemporary music at the Avaloch Farm Music Institute and the Norfolk Music Festival in Connecticut, as well as concerts at China's Peking University, the 92 Street Y, The Metropolitan Museum of Art, Georgetown University, the New York City and St. Louis Classical Guitar societies, the Omaha Under the Radar and April in Santa Cruz new music festivals, and at the Times Center playing for the MacDowell Colony.
Thomas and Christopher are graduates of the Yale School of Music. Their name is a combination of "Noir" (Black) and "La Noire" (quarter note)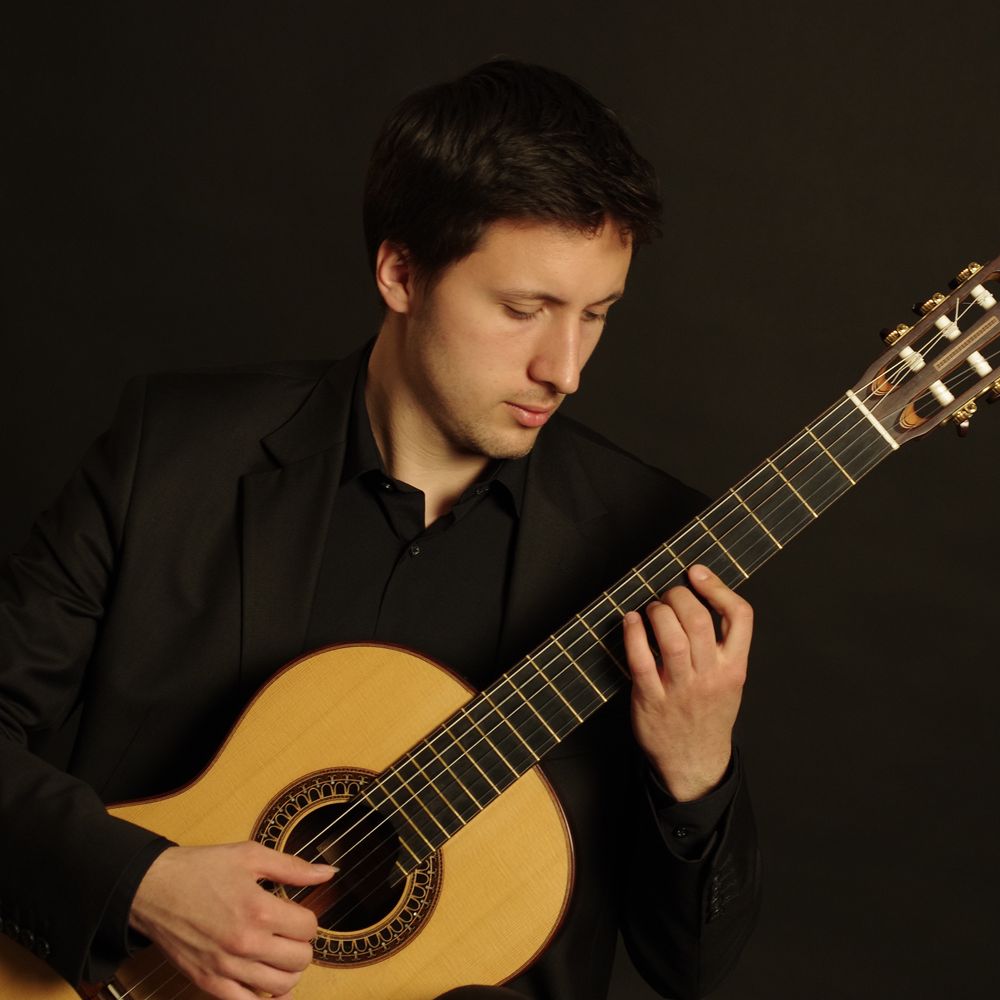 Lovro Peretić
March 21 & 22, 2024 @ 7:30 pm
Lovro Peretić was born in Zagreb in 1995 and started studying guitar with Xhevdet Sahatxhija. Later, he graduated from the Academy of Music in Zagreb, where he studied with Darko Petrinjak and spent one year in a student exchange programme at L'École Supérieure Musique et Danse Hauts-de-France, Lille with Judicaël Perroy. He is a promising guitarist of the younger generation, who has been successful in many national and international competitions, winning First Prize at: the Guitar Foundation of America International Concert Artist Competition, the International Competition for Young Guitarists 'Andres Segovia' in Velbert, Germany, the Anna Amalia Gitarrewettbewerb in Weimar, the Zagreb Guitar Festival in Croatia; Concorso Internazionale di Chitarra Classica 'Enrico Mercatali' in Gorizia, Italy and the Sarajevo International Guitar Festival, among others.
He represented Croatia in many important festivals such as the Vladimir Spivakov International Foundation's festival in Moscow and the European Union of Music Competitions for Youth's Young Hearts for Music in Austria and Germany. He also regulary performs in various chamber music groups including his duo with violinist Katarina Kutnar and in the guitar tri Evocación. He has performed as a soloist with the Croatian Radio and Television Symphony Orchestra, Dubrovnik Symphony Orchestra, and Zagreb Soloists, among others. Lovro was awarded the Dean's and Rector's prizes of the University of Zagreb.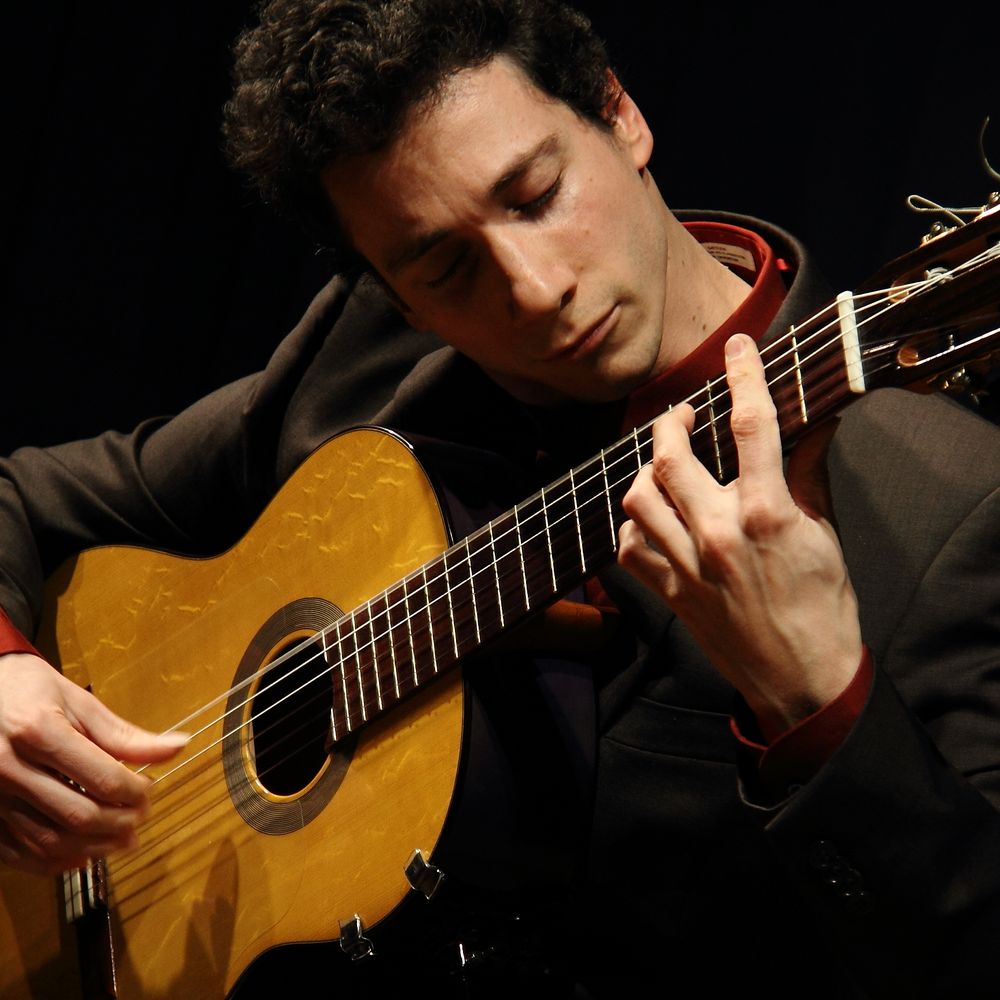 Grisha Goryachev
April 24, 2024 @ 7:30 pm
A native of St. Petersburg, Russia, Grisha Goryachev is renowned for his extraordinary musical sensitivity and technical virtuosity in both classical and flamenco styles.
Grisha is one of very few guitarists in the world who is reviving the tradition of solo flamenco guitar in a concert setting that was practiced by legendary flamenco masters such as Ramón Montoya and Sabicas. Grisha strives to keep alive older flamenco masterpieces that now exist only on records, by performing them in concerts. Instead of merely copying, he creates his own interpretations of these masterpieces, using dynamics and tone colors usually associated with classical guitar.
Grisha began playing guitar at the age of six, studying first with his father Dmitry, an acknowledged master teacher of the instrument. At nine years old, Grisha started his performing career as a child prodigy. His numerous performances before large audiences in the most prestigious concert halls in the Soviet Union were highly praised.
Following a tour of Spain, Grisha was invited to play for flamenco legend Paco de Lucía, who soon after personally intervened in support of his application for an American visa, which was awarded in 1997 on the basis of "Extraordinary Ability".
In May 2005 Grisha was awarded the prize for Best Performance of Spanish Music at the VI International Classical Guitar Competition "Julian Arcás" in Almería, Spain.
Grisha received his Bachelor, Master and Doctor of Musical Arts degrees from the New England Conservatory of Music in Boston, where he studied under famous guitar virtuoso Eliot Fisk. He was one of the 30 people in 2006 to become a fellow of the distinguished Paul & Daisy Soros Fellowship, recognizing him as exceptional in his chosen field.
Since his immigration to the United States, Grisha has toured extensively in the states and abroad as a performer, instructor, and judge for many prominent festivals and venues. A firm believer in exposing the young generations to the beauty of classical and flamenco guitar, he likes to include Outreach performances and workshops at schools as part of his concert tours.
Grisha's YouTube videos have collected over two million views and many notable comments. Grisha recorded two CDs: "Alma Flamenca" and "Homenaje a Sabicas".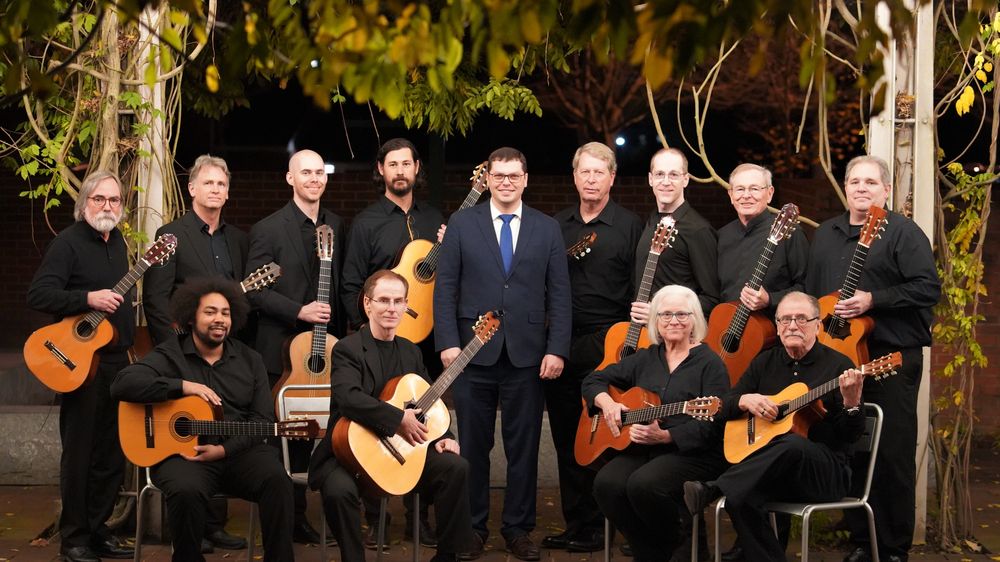 Tidewater Guitar Orchestra
May 4, 2024 @ 7:30 pm
The Tidewater Guitar Orchestra, one of the first of its kind in the United States, is an ensemble of more than a dozen accomplished guitarists who use the lush timbral resources of an orchestra of guitars of different sizes to explore a rich repertoire ranging from Bach to Bartok and specializing in music of the Americas. Founded in 1995 by Sam Dorsey, the Tidewater Guitar Orchestra was inspired by a similar orchestra in Costa Rica led by Luis Zumbado. The orchestra is composed of traditional classical guitars supplemented by requintos (soprano guitars tuned a fifth higher) and bajas (baritone guitars tuned a fourth lower).
The TGO has commissioned new works from composers Andrew York and Ben Verdery and is particularly pleased to perform works written and arranged by its own members. The orchestra has made numerous appearances locally and represented the United States at the International Guitar Festival in Costa Rica in October of 1999 and again in 2010.
The ensemble is proud to be included in the Virginia Commission for the Arts Performing Arts Tour Directory and proud of their two CD's; Prelude and Music of Europe and the Americas. Their recent performances continue to garner glowing reviews.
"The Tidewater Guitar Orchestra virtually sparkled with technical verve, panache, passion and humor. Listening to them perform is an absolute delight!" JoAnn Falletta
TGO's CD, Prelude:
"The Tidewater Guitar Orchestra's "Prelude" mixes classical selections, new music for guitar, and traditional tunes to beautiful effect. "Prelude" (is) a head-spinning trip around the globe featuring music from Costa Rica, as well as Telemann, Copeland, de Falla, and Andrew York." The Virginian-Pilot
"…this was a gorgeous sound that emanated from Roper's stage, with a striking range of colors. For an encore they played an attractive pop-tinged number by John Boyles, one of the group's members. "Julia" was written by Boyles for his daughter, and its openness and sincerity were characteristic of the concert as a whole." The Virginian-Pilot
TGO is a performing entity of Tidewater Classical Guitar.